Have you ever read a book where you just want to scream at the main character for making out (constantly) with her boyfriend. Or where the boy hits on all the girls in town and doesn't care when he hurts his girlfriend's feelings. I hate having to read about these things! Seriously we deal with it enough in real life. Now I'm not saying I think for a girl to kiss a guy is wrong, trust me I love a little romance. The thing is when I read a book, I want to be completely comfortable with what I'm reading. I want to be able to tell my grandmother to read the book and not be embarrassed when she calls me to talk to me about it...because trust me my grandmother calls a lot. Authors that can write amazing books that are clean should be applauded! Here are some great clean fiction: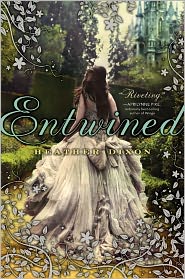 Entwined by Heather Dixon
Azalea is trapped. Just when she should feel that everything is before her...beautiful gowns, dashing suitors, balls filled with dancing....it's taken away from her. All of it. The Keeper understands. He's trapped too. Held for centuries within the walls of the palace. And so he extends and invitation. Every night, Azalea and her eleven sisters may step through the enchanted passage in their room to dance in his silver forest. But, there is a cost. The Keeper likes to
keep
things. Azalea may not realize how tangled she is in his web until it is too late.- A beautiful retailing of "The Twelve Dancing Princesses."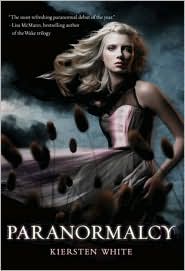 Paranormalcy
by Kiersten White
Evie's always thought of herself as a normal teenager, even though she works for the International Paranormal Containment Agency, her ex-boyfriend is a faerie, she's falling for a shape-shifter, and she's the only person who can see through paranormals' glamours. But Evie's about to realize that she may very well be at the center of a dark faerie prophecy promising destruction to all paranormal creature. So much for normal.-This book is absolutely fantastic and refreshingly clean! Super funny! :) Love!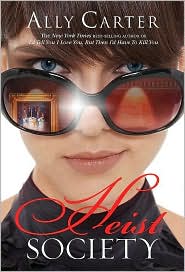 Heist Society
by Ally Carter
When Katarina Bishop was three, her parents took her to the Louvre...to case it. For her seventh birthday, Katarina and her Uncle Eddie traveled to Austria...to steal the crown jewels. When Kat turned fifteen, she planned a con of her own--scamming her way into the best boarding school in the country, determined to leave the family business behind. Unfortunately, leaving "the life" for a normal life proves harder than she'd expected. Soon, Kat's friend and former co-conspirator, Hale, appears out of nowhere to bring her back into the world she tried so hard to escape. But he has good reason: a powerful mobster's art collection has been stolen, and he wants it returned. Only a master thief could have pulled this job, and Kat's father isn't just on the suspect list, he is the list. Caught between Interpol and a far more deadly enemy, Kat's dad needs her help. For Kat there is only one solution: track down the paintings and steal them back. So what if it's a spectacularly impossible job? She's got two weeks, a teenage crew, and hopefully just enough talent to pull off the biggest heist in her family's (very crooked) history--and, with any luck, steal her life back along the way.-Lets just say that Ally Carter is by far my favorite author! If you haven't read the Gallagher Girl series...READ IT! I absolutely love her writing style and the fact that she writes about spies, secret undercover agents, and thieves just makes it all better. :)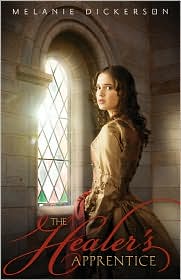 The Healers Apprentice-Melanie Dickerson
Two Hearts. One Hope. Rose has been appointed as a healer's apprentice at Hagenheim Castle, a rare opportunity for a woodcutter's daughter like her. While she often feels uneasy at the sight of blood, Rose is determined to prove herself capable. Failure will mean returning home to marry the aging bachelor her mother has chosen for her---a bloated, disgusting merchant who makes Rose feel ill.When Lord Hamlin, the future duke, is injured, it is Rose who must tend to him. As she works to heal his wound, she begins to understand emotions she's never felt before and wonders if he feels the same. But falling in love is forbidden, as Lord Hamlin is betrothed to a mysterious young woman in hiding. As Rose's life spins toward confusion, she must take the first steps on a journey to discover her own destiny.-It is set in medieval Germany which I love! It was very charming, teens and adults would love this book! I loved it and not just because it was a great fairy tale :)
Clean fiction is amazing! You get a great story without all of that other stuff! Enjoy :) :)